The advantage Outdoor gyms
The advantage Outdoor gyms in recent years, sport, training and outdoor gyms have been talked about as a fashion. However, they have become a more open and free form of training that has come to stay, and there are many reasons for this.
The well-placed open spaces are not only resting spaces, but have also become a place of action, where you can enjoy training, leisuresports and taking care of yourself more than ever.
For outdoor enthusiasts who do not dare to do their physical activity alone or feel more comfortable using machines, outdoor gyms are their best allies.
These spaces are valid for all types of audiences, all ages, from kidsto more mature, always adapted to each case. From green spaces, walking areas, aerobic sports as well as bodybuilding, team or group areas.
It is becoming more frequent to find these sports spaces or outdoor gymnasiums in public parks promoted by town halls, residential developments and business areas.
Benefits of training in outdoor gyms
Training in outdoor gyms prevents diseases, improves mental status and helps to get to sleep, strengthens the immune system and increases the obtainment of vitamin D.
The vitamin D is synthesized from the exposure of the sun in an outdoor training provides great benefits for your bones, muscles and in metabolism, as well as in the prevention of cardiovascular diseases.
Exercising is beneficial for your self-confidence, but outdoor exercise can be even better. Training outdoors can increase your vitality, improve well-being and self-esteem as well as reduce anxiety.
Also, exposure during the day can help you sleep better, improving the immune function and increasing the production of the so-called hormones of happiness.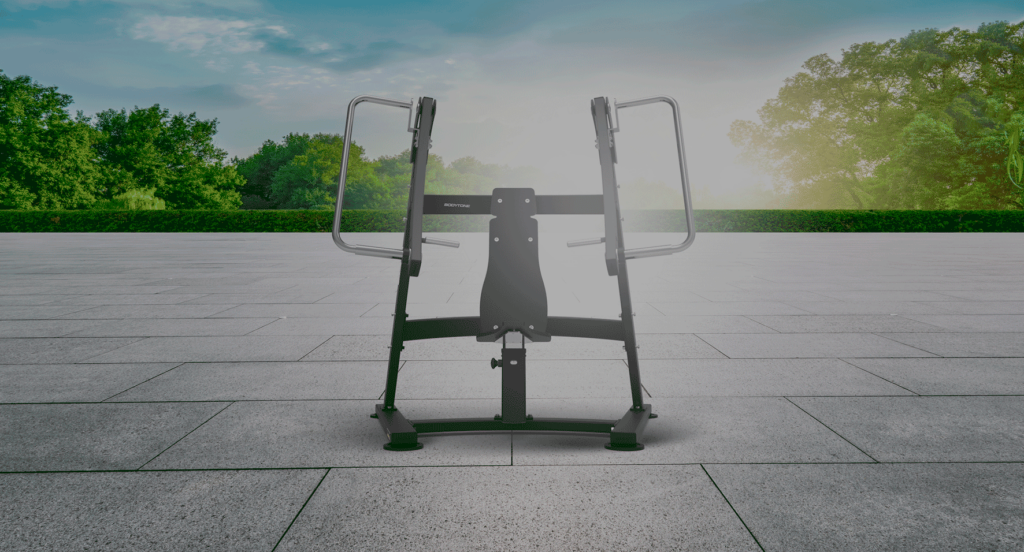 Solid Rock machines outdoor gyms
But not all equipments or machines are valid for the exterior, they require a specific design and construction so that they can withstand sun, wind, rain, etc., always thinking about the durability and usability of all types of users.
Aware of this challenge, at Bodytone, we have renewed our range of Solid Rock Outdoors coinciding with the arrival of summer when the demand for outdoor gyms for parks, schools, beaches, public and private spaces increases the most.
The new range of Solid Rock for exteriors of Bodytone is characterized by the resistance and the design, endorsed by an important certificate of quality. The use of high level components has been essential in the production of these machines, guaranteeing the total robustness and safety of the entire structure.
They are individual fitness machines designed for open spaces and located outside. Bodytone also has other elements, such as outdoor functional training cages, which will allow training to the maximum performance.
Undoubtedly, it is a very complete range that comes to cover a very important sector in the fitness sector, such as outdoor strength training. They are robust machines with ergonomic grips of rugged and non-slip steel, designed to withstand heavy loads.
All its advantages make Solid Rock Bodytone the perfect alternative to enjoy outdoor workouts and a perfect ally to carry out a good personal training.