Pablo Rodríguez, day centre coordinator and psychologist of the integral centre and José Peñalver, responsible for physics and sports, receive us to talk about ASD (Autism Spectrum Disorder) and its improvement through sport in Astrade.
How does sport influence the lives of users?
P.R.: Within the autism spectrum, there is a very heterogeneous range of profiles, regardless of where the users are located in that spectrum, we saw a few years ago that sport was great for regulating their behaviour and promoting their personal development and self-esteem.
What is your work with them?
J.P.: I am fully dedicated to adapted sport. I've set up training for each degree of impairment. Thanks to Bodytone's donation, we have been able to have a good gym and start working the ASD from more angles, not only the deficiency in communication, social skills and repetitive interests. The aim is to improve their quality of life through sport.
How does sport affect user behaviour?
P.R.: If we all feel good about exercising, the good feeling after sport is magnified. They are more emotionally regulated and this leads to a significant reduction in their disruptive behaviour and an improvement in their attention span that makes it easier for us to work with them. Sport helps to emotionally regulate people with ASD.
How do they take these efforts?
J.P.: Those less affected understand why to do sport, but those more affected don't. It was a problem for them to exercise their body, but since we have the coloured weights and the spinning bikes from Bodytone they interpret it as something more playful. They understand that sport is like a game; with the gym they have started to cheer up, they see it as a positive stimulus.
How does sport influence their emotional state?
J.P.: A common aspect is emotional deregulation. That means they go from zero to 100 in a matter of a second, after which they have a hard time getting back to a normal state. Thanks to exercise, the body gets used to speeding up and calming down, and that's very important when working on that deregulation.
How do you get a person with autism disorder to agree to participate in group play?
J.P.: Medicine balls help us to develop a collective game in which everything is planned and communicated, but it still has its friendly and sociable dimension. With cooperative games, they learn to communicate and make their own decisions, also to accept the rules, to collaborate with their peers. It is good for the lower and higher levels of ASD. Sometimes we even leave some uncertainty and they react well, they solve it.
Any specific case you can tell us about?
P.R.: We have the case of one of the boys who, in addition to ASD, has epilepsy associated with his diagnosis. This makes him suffer from epileptic seizures on a daily basis. At his school they decided to put him in a wheelchair for fear that he would hurt himself when he had a seizure and collapsed. When she arrived at Astrade, she had a significant hypotonia, which made it very difficult for her to move around in the chair. Thanks to the support of her parents and special training, we have managed to get her strength back in her legs so that she can walk and support her body on her own. He has gained a lot of autonomy; he no longer uses a wheelchair or walker.
Daniel Martínez is one of the users of the gym at the Astrade Comprehensive Centre.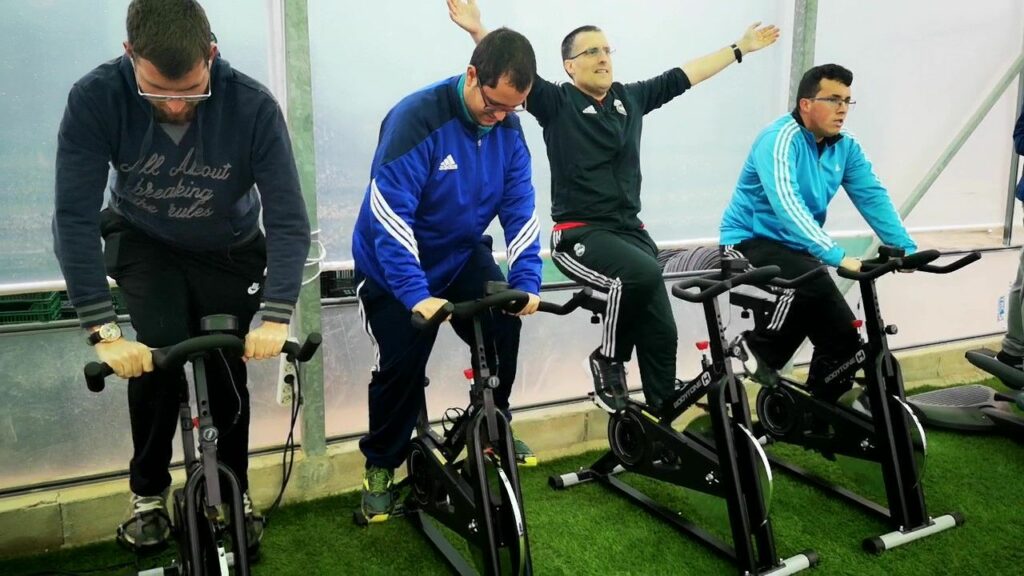 Daniel, have you used the gym yet?
Yeah, I've used it. My favorite machine is the spinning bike. I like to do an hour and combine it with 40 minutes of swimming throughout the week.
And the weights, have you tried them?
Yes; I use the weights to exercise my arms and I haven't used the punching bag yet, but I know it has a good effect because of the Rocky movies.
How do you feel since you've been doing sports?
I feel healthy and happy, I take care of my diet and I'm as good as new. I would recommend everyone to do sport. Some afternoons I also go for a walk. Everything helps me to feel much better.